Suaoki is one of the fastest rising online retailers providing various kinds of standard products ranging from automotive, solar powered devices to laser measurement fields. As a matter of fact, they have quite few best-selling items available in marketplace.
Though Suaoki Tech isn't accurately one of the most familiar brands in the portable generator market however it has a good benefit in the market more recently.
As an increasing number of people have become aware of their products in solar power, automotive jump starters, and portable power supply for home and outdoor use.
As this SUAOKI Portable Power Station Review will show, the product actually deserves to be more popular beside other popular power station brands.
Best Portable Power Station Reviews
SUAOKI is providing few best rated portable power station products and has got much popularity among people around the world. So, we have listed here those few increasing number of products and their reviews:
| Image | Name | Watt | Price |
| --- | --- | --- | --- |
| | SUAOKI G500 | 500Wh | |
| | SUAOKI Solar Power | 150Wh | |
| | SUAOKI Portable | 400Wh | |
| | SUAOKI Battery Pack | 220Wh | |
| | SUAOKI Laptop Charger | 100Wh | |
| | Car Battery Charger | 4 Amp 6/12V | |
| | Pocket Charger | 28Wh | |
Blindly, there's a lot of power capability to be used with this Suaoki G500 power station and that's because it has a 500Wh capacity and you can power multiple devices at a same time.
Actually this brand actually deserves to be more popular. A closer look with the Suaoki g500 the best portable power station 500wh can convince you that it's a wise choice.
When you first look at the generator, in outside the orange-looking LCD screen will be noticeable. This outside small display monitors your battery charge so that you will get the idea about generator's output.
In the left screen, you'll get a power button with a small LED light. This LED light will help you to confirm, is the power on or off.
Slightly below the power button is the "AC Out" button, which, when pressed on, releases the power from the battery to the two AC outlets below.
Towards the right of the AC outlets, it has DC ports including a USB-C port. For any USB device as well as two USB-A fast charge ports for anyone using the traditional USB chargers.
Benefits:
Super easy to move anywhere and easy usage.
You will get three charging ports, including with a solar panel
Outside display is very helpful to know about the battery condition.
Much more wattage for use, which may comparable with other power stations
You'll able to run many appliances at once just because of its multiple sockets
Get your 2 years warranty besides 24/7 customer service
You'll find this SUAOKI 150Wh is one of the smallest and lightest portable power station available in the market. It is designed by battery experts and focused for camping and long road trips use.
It has cool and trendy looks and the hide-away handles gave it another good looks. Very easy to use and besides this it has a user manual for instructions. Many user says it the best power bank for emergency use.
SUAOKI 150Wh is actually a portable solar generator with solar panel. So you've no tension about gasoline fumes.
You are capable to bring this SUAOKI 150Wh with you so you can power various items on camping trips, tailgate parties, or picnics. This is really so lightweight and portable power station.
Benefits:
Very simple for use and lightweight
Beautiful hide-away handles
2 AC outlets, 4 DC outlets, 3.0 USB port among 4 USB ports
Fitted with LED light as a torch
Have power level indicators
Also rechargeable by solar panel, wall socket or car socket
This SUAOKI has 400W power, is your all-in-one power supply solution for your need on camping site, hiking trips, long road rides.
You will get carriable handle for easily movable, and you can take it anywhere you go. This SUAOKI portable power station is very good for camping lovers.
This SUAOKI portable power pack charger has two AC sockets & two DC charging ports and 4 USB ports.
With such diverse output sockets you can easily run your mini-refrigerators, speakers, portable projectors, and recharge your smartphones, laptops, cameras, lights etc.
Benefits:
3 ways recharging option.
Designed for all-in-one power source at a time
Have LCD screen to see the battery status.
Durable and fit for outdoor use.
PS5B can be rechargeable through the solar panel, with 12/24V DC supply, home AC ports
Suaoki S601 is a medium-sized power station with a capacity of 220Wh. This portable power station can fulfill all your needs.
SUAOKI portable battery pack is fully perfect for your camping, fishing and other outside trips. SUAOKI Portable Battery Pack S601 is designed to power up all kinds of different electrical accessories.
With this, smartphone can recharge up to 20 times, laptop up to 4 times, tablets 10 times. Also with AC power supply, it can run mini-refrigerator for 5 hours.
Benefits:
Excellent power source with various output sockets
Lightweight and compact solution for your power needs
Good Capacity and Versatile Charging Options
On top of this, included cigarette lighter port cable can be used
5.5 lbs weighs only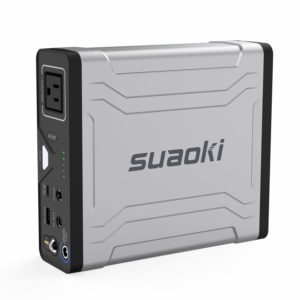 The G100 portable charger can use on different purpose include in camping, fishing, and other outdoor trips etc.
It is highly compact and can easily fit into your backpack so you can easily carry it anywhere. You'll also get LED flashlight here, so that you do not need any torch light at night.
This portable charger design is rechargeable from a solar panel, from any AC socket or from a DC power source.
In the battery management system, it has advanced safety options to avoid the unequal power supply.
Benefits:
Multiple output ports
Perfect for camping, fishing and other outdoor use
LED flashlight for your night time use
Has battery management system to avoid irregular current.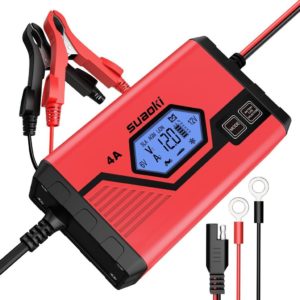 SUAOKI 4A 6/12V has suitable charging process. Depending on the battery status it can charge slowly or quickly.
Battery status will be clearly observable through the LCD screen display.
For your battery complete security, it has multiple advanced safety options. This car battery charger box is widely using everywhere.
Benefits:
Protected with spark-proof function
Automatic voltage detection
LCD screen and multi protection option
Features safety against over-temperature
Portable chargers are now one of the most used types of charging electronics on the market. USB wall chargers are still the most used charging electronics around the world.
28W SUAOKI Foldable Solar portable charger design is surely one of the best portable solar charger power bank for outdoor.
This will surely recharge your smartphones and tablets just like you were charging them from from an electrical outlet at home.
This portable charger cost is very affordable. In Fact, it has an impressive conversion rate of up to 20% and dual USB ports so that you can charge two devices simultaneously.
Benefits:
Ideal for outdoor use.
The solar charger itself is waterproof
3 devices powerable at a same time because you'll get 3 USB ports
Solid and lightweight portable solar charger for both smartphones and tablets