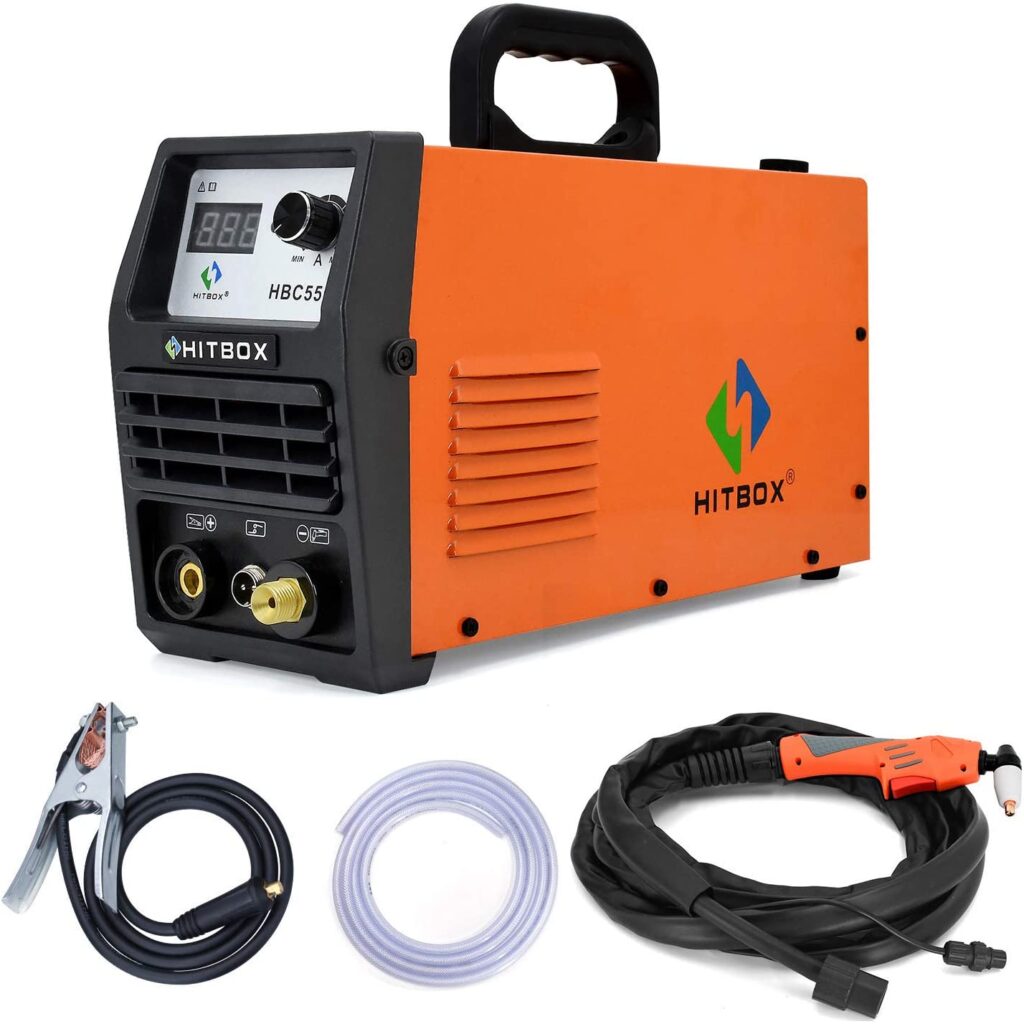 This is the sixth plasma cutter that we are reviewing and it is among our chosen ones after testing cutting machines for several months. We chose it because it has some superior features like the other five.
If you're on the verge of buying a plasma cutter for the first time or you want to replace your plasma cutter, you need to read this HITBOX Plasma cutter review through to the end.
One of the reasons why we chose it is its versatility. The device can cut through all kinds of metals and even non-metal materials. For this reason, you can use it to cut even galvanized pipes with ease. Before we go further, it is important that we remind you that we're not affiliated with any brand that we review.
We only review and recommend high-quality products regardless of their brands. Also, we stand by whatever we say about any of the products we review. This is because our reviews are based on what we see and not what we find online.
No matter what people say about a product, we won't include it in our review unless we find it to be true. So, our reviews are legit. This one is not an exception. We have tested it for several weeks too. So, let's get to the review proper.
HITBOX Plasma Cutter Review | 5 Major Features
1. It Cuts Through all kinds of Metals
We used it to cut stainless steel, alloy steel, mild steel, copper, carbon steel, aluminum, and other metals and its performance was impressive. The machine cut through all of them with so much ease.
The cuts were fine and smooth by the sides. So, they won't need polishing. We also used it to make some complex cuts that will be difficult for many other plasma cutters but this device did wonderfully.
When you buy it, you'll enjoy its performance. One more thing – you don't need much experience and expertise to use it to make great cuts.
In fact, our team member that tried it first is a complete novice in metalwork. He just took his time to read the manual, and he was able to do a fantastic job with it. So, you should be able to use it even if you're a learner.
2. The Device is Safe to Use
High voltage and low voltage have damaged thousands of electrical appliances not because the users were careless, but because they just occur suddenly. While in use, the voltage may just drop suddenly or shoot up beyond the normal threshold. Before the user notices it, the tool being used will be damaged.
That's why we're glad to inform you that high voltage or low voltage cannot damage this piece of equipment. You know why? It has a safety feature that will shut it down immediately the voltage drops or shoots up to a dangerous level. So, you can use this equipment with peace of mind.
The unit will also shut down when the system gets too hot so that its component will not be destroyed. Finally on safety, short circuits cannot damage it as well. If your top priority is safety, mark this product down for consideration.
3. There's a Digital Display Unit for Current
It is necessary to set the current to the right amperage before using it. At the right current, you'll get maximum performance from this tool. So, what is its amperage? It works best at 50 amps.
That is why it has a large, clear, and bold digital display unit for the current. As you set the current, you'll look at the display unit to be sure that it is on 50 amps.
We particularly like the size of the display unit. Even if you're using the torch several feet away, you can still see the display unit clearly.
5. The Machine is Durable
Durability is another important factor in choosing a plasma cutter. Buying one is a huge investment. So, it should serve you for several years. No matter how much you like your appliance, if it packs up too soon, you'll be disappointed. That's why we tried to confirm the durability of this cutting tool.
It was first manufactured in 2017 and we have seen some users that have been using theirs since then. Also, we ran through its user reviews to check complaints about lack of durability, but we didn't see anyone. So, it is safe to conclude that this device is durable.
How to Use the HITBOX Plasma Cutter?
In terms of usage, the steps involved are basically the same as other plasma cutters. Nevertheless, we'll still discuss them right away.
Step 1: Open all your windows for proper ventilation because plasma cutters radiate heat while in use. You don't have to open your door. This will prevent anyone from barging in and startling/distracting you. It is needless to remind you that metal cutting requires a lot of concentration.
Step 2: Wear all the necessary protective gear. Remember, safety first.
Step 3: Fix the torch and the air compressor on the device.
Step 4: Plug the machine into your outlet, but don't switch it on yet.
Step 5: You can position the metal that you want to cut. Ensure you also assume a comfortable posture.
Step 6: Hook the ground clamp.
Step 7: Switch on the outlet, turn on the plasma cutter, and set the current.
Step 8: Bring the torch close to the metal. Press the button on the torch and begin to cut the metal slowly. This is not a task you can carry out in a hurry.
Step 9: When you're done, turn it off, switch off the power outlet, and remove it.
Step 10: Remove the hooked ground clamp, torch, and air compressor.
Step 11: Store them in their right positions.
As mentioned earlier, never forget to read the manual before you use it. If there's anything you don't understand, contact their customer service team. Never assume.
Why Should You Use HITBOX Plasma Cutter?
1. The Product is Easy to Use
One reason to choose this product over others is its ease of use. When you buy it, you'll quickly understand it and you'll be able to use it easily. There's no point in buying an appliance that is difficult for you to handle.
2. It is Portable
This device weighs only 22 pounds and it is fairly small in size. So, you can easily carry it around to do outside jobs. Thankfully, it comes with a strong carry handle that makes it easy to lift.
3. Its Energy Efficiency is 85%
The power consumption of this tool is low. It will save you some dollars in electricity bills.
4. Its Cutting Thickness Capacity is 16mm
This plasma cutter can cut metals that are up to 16mm thick. This is impressive because only a few cutters can match the thickness capacity.
5. The Device is Durable
This point already explains itself. If you buy it and take good care of it, the machine will serve you for several years.
Product Benefits
The cutting machine is versatile.
Its cutting thickness capacity is 16mm.
We have confirmed its durability.
It weighs only 22 pounds.
You should be able to carry it around easily with its strong carry handle.
Its casing is well-ventilated.
The machine offers energy efficiency of 85%.
There's a large display unit that displays current.
It is quite easy to use.
The Negative Things
It does not support dual voltage. It works on only 220V.
FAQ – Frequently Asked Questions
Question 1: Where is the machine sold?
Answer: You can get it on Amazon.
Question 2: What is its actual weight (not the shipping weight)?
Answer: It weighs 22 pounds.
Question 3: Does it support dual voltage?
Answer: No, it supports only 220V.
Question 4: Is it manufactured in the United States?
Answer: No, it is manufactured in China, but it is a great product.
Question 5: What is its warranty?
Answer: It comes with a 1-year warranty.
Final Verdict
We'll end this HITBOX Plasma Cutter review by recommending the product. You'll enjoy it if you buy it. The product cuts all kinds of metals easily and you can easily carry it around. It is protected from high voltage, low voltage, short circuits, and overheating.  Finally, you don't have to be an expert to use it. These are the reasons why we have recommended it.