It's easy enough to understand why there's a continuous demand for the best portable gas generator. You need a generator when there's a power outage at home, and you still need to run your various appliances.
A good portable generator is also more useful, since you can move it from one spot to another more easily if you bring it to a campsite.
As for using gasoline, it's a very convenient fuel source. It's everywhere, wherever you go there's a gas station nearby to provide for your needs.


All you need is your gas generator to power house and a campsite doesn't have to be torture for you. You can still power your camp lights and recharge your smartphones and laptops. You may even power a fan in the summer or even a TV if you can't miss the football game.
Some offer enough watts to let you use a mini-fridge so you keep food fresh and your beer cold. You do need to take into account that burning gasoline leads to fumes.
This means you have to use it where you have ample ventilation. These things can be a bit noisy too, so you need to place them far enough away so they don't annoy you (and everyone else).
Our Picks of 8 Best Portable Gas Generators:
With so many gas generator brands available, how do you pick one that's best for your needs? One easy way to choose is to narrow down your options to the generators we recommend in our list of the best options:
This is also another modest generator best reserved for emergency use at home. However, it does come with a handle and wheels so you can also move it about around a campsite.
With this, you get 4400 starting watts and 3500 continuous watts. This comes with a 4-gallon tank that gives you 8 hours of use at half load.
The frame is heavy duty, the tires are solid, and you have a 1-year warranty for the parts. This should last a good long while with features like the circuit breaker and automatic low-oil shutoff.
This isn't really complicated to use at all. There are 2 120V outlets, along with a 120-Volt/240-Volt twist-lock outlet.
The power panel has the engine shutoff switch and the volt meter. It also has an electric key start so there's no cord you need to pull. It's even EPA-approved and the noise levels are tolerable.
Features:

You have 3500 continuous watts and multiple outlets for several important appliances.
It has a circuit breaker and an automatic low oil shutoff feature for safety, plus the frame is solidly built.
It has a handle and wheels for easier mobility around a campsite.
It's easy enough to use, especially with the electric key start.
It can run for 8 hours straight at half load.
The DuroStar is known for its affordable yet well-made products, and the DS4000S justifies this reputation.
It's a modest gas powered portable generator with 4000 starting watts and 3300 running watts, with should be enough to power your essential appliances at home.
It's easy enough to use, as it comes with a full complement of safety measures. There's a volt meter, an oil warning light, a circuit breaker, forced air cooling system, and automatic low oil shutoff. You get 8 hours of use at 50% load, and it's not noisy at all due to the muffler.
Features:

It offers enough watts to run all the appliances you need at home or at a camping site so you're not uncomfortable at all. This can run a small air conditioner and a full-sized refrigerator together, along with some other devices.
It's very easy to use, and there are no complications to worry about. You begin with the EZX-Pull recoil start.
It has lots of safety features, such as a circuit breaker and automatic low oil shutoff. You won't inadvertently damage the engine even if you leave it unattended.
This comes with a 4-gallon tank, which is enough to give you 8 hours of use at half load.
It's EPA-approved. It's not really all that noisy, compared to average gas generators. The noise level is less than 70 decibels.
What if you just want a small gasoline gener
ator to power a few simple appliances at a campsite? If you're not going to use your generator to power your air conditioner and fridge at the same time, it's a waste of money to buy a generator with more than 10,000 watts.
Instead, the 1,200 watts from this Pulsar should be more than enough.
This gives you 900 watts that should power more than a few lights, a music system, a fan, and perhaps a TV too. You have a couple of 120V outlets to work with, plus a 12V DC output.
This doesn't have wheels, and that's because it doesn't weigh more than 100 pounds. You should be able to lift this from the trunk of your car into your campsite, since it only weighs 35 pounds instead.
It also comes with a comfy handle. Bring this to the beach and have a good time. To keep it compact, this only comes with a 1.1-gallon tank.
That's more than enough for campsite appliances, and it can still give you 8.5 hours of use at half load. You also have a low oil indicator along with automatic voltage regulation, so you have nothing to worry about. It's pretty much plug and play.
Features:

You have 900 running watts, which is more than enough for camping and for beach fun.
There are multiple sockets where you can plug in your appliances.
This is actually portable, as it's easy to carry due to the light weight, compact design, and comfy handle.
You also have nice safety features too.
This gives you 1600 running watts to work with, along with a couple of AC outlets and a DC outlet.
The nice thing about this is that it also comes with a USB outlet, so on camping sites and beaches you can make sure your smartphone and laptop don't run out of juice.
This comes with the stable sine wave technology that makes it safe for more sensitive electronic devices like smartphones.
It's very compact and it weighs less than 47 pounds so it's not really impossible to carry to your campsite. This only comes with a 1.18-gallon fuel tank, but that's big enough to give you 8 hours of use at half load.
You can get two of these Pulsar generators and connect them together to double your power output. This has multiple safety features, including an automatic voltage regulator and a low oil shutoff feature.
It's also comparatively quiet, as it only operates at 59 decibels even when you're just 10 feet away. Other generators are noisier at 23 feet away.
Features:

It offers 1600 running watts.
Along with multiple sockets there's also a USB port.
It can still work for 8 hours straight at half load.
It's compact and relatively lightweight.
You don't have to put up with a lot of noise.
This is another option for those with lots of appliances to power. It offers 12,000 starting watts and 9,500 running watts.
There's a volt meter and an oil warning light, along with automatic low oil shutoff.
It's a simple generator to use, and you have a handle and wheels to move it about your home or campsite. This is a "Beast" of a generator, and you might not even notice that there's a power outage at all.
Features:

Duromax XP12000E is very easy to use.
You can run a long list of appliances with the 9,500 running watts.
It's very reliable and durable.
It's even EPA-approved.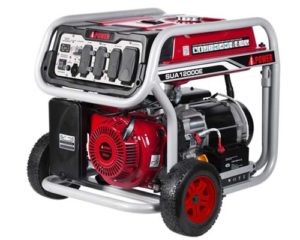 Sometimes you really don't want to be bothered by a power outage, and maybe you also like to bring lots of appliances with you at camping sites.
This means you need lots of available generator power, and that's what you get with this A-iPower.
You get 9000 running watts and 12,000 starting watts, which should be enough to power the appliances that make life comfortable.
This is also the preferred generator by quite a few construction site professionals. It helps that it does comes with wheels and a handle so you can easily move it around a worksite.
The same goes for a campsite too. To power all those devices, the fuel tank here can hold up to 7 gallons. Even at half load running 4500 watts, this should still give you 9 hours of running time.
It's not all that noisy either considering its size, as it operates at 78 decibels. This comes with lots of features for convenience and safety. There's a keyless electric start button, GFCI Protected Outlets, and a heavy duty full frame.
Features:

You can run your lights, TV, refrigerator, pump, air conditioner, plus a fan at the same time with this.
At construction sites, you can use this to power 4 to 5 power tools at the same time.
It offers on-site mobility.
The frame is durable and it comes with safety features.
You get 9 hours of running time at half load.
Atima may not be a brand that's familiar to you, but this comes with an engine bearing the Yamaha brand.
With its 3,000 starting watts and 2600 running watts, you can power your 13500 BTU AV Air Conditioner during the height of summer.
You can also power a long list of appliances at once, including your refrigerator, coffee maker, PC, and TV.
It's very simple to use, and it's rather like just plugging your appliances in a wall socket.
It offers continuous, stable electricity that won't damage your appliances with unpredictable power surges. There's even an LCD screen showing the current status of all the generator functions.
Features:

You get 2600 running watts for your most important appliances.
The generated power is very stable.
It's simple to use.
At its rated load, it only operates at 61 decibels.
Here's another nice generator for campsites, as it's EPA-approved and also CARB-compliant.
It's so quiet backup generator that at full load (not half load) that it only operates at 58 decibels.It's also compact and lightweight at 47 pounds.
This gives you enough power at 2000 starting watts and 1800 running watts.
If you find that the wattage isn't enough, you can get another generator like this one and combine them to double your available wattage.
The power is clean and stable, and it won't damage your sensitive electronic devices. This is quite durable too. The warranty is for 2 years and you get free lifetime technical support.
Features:

It's extremely quiet.
It's easy enough to carry to a campsite.
You can double your available wattage with another generator like this one.
The power is safe for sensitive electronics.
It comes with a 2-year warranty and free lifetime technical support.
Benefits of a Using Best Portable Gas Generator
Gasoline is readily available, so it's not as if you need to search for long for a fuel source.
Many of these portable gas generators have wheels and a handle so you can move it from one spot to another.
They're very easy to use. Normally, even an average child in grade school should be able to figure them out.
If it in the height of summer, having a gas generator means being able to run the air conditioner or even just a fan when you have a power outage.
You can use it to power your lights and other appliances at a camping site.
At a tailgate party, this can be used to power your music system.
When you're racing to finish a school assignment on your PC, the generator can make sure you don't end up failing your class.
You don't have to miss the football game even if the power's out.
This generator will have various safety features like automatic low oil shutdown and overloading protection.
Buying Guide – How to Choose the Finest Portable Gas Generator?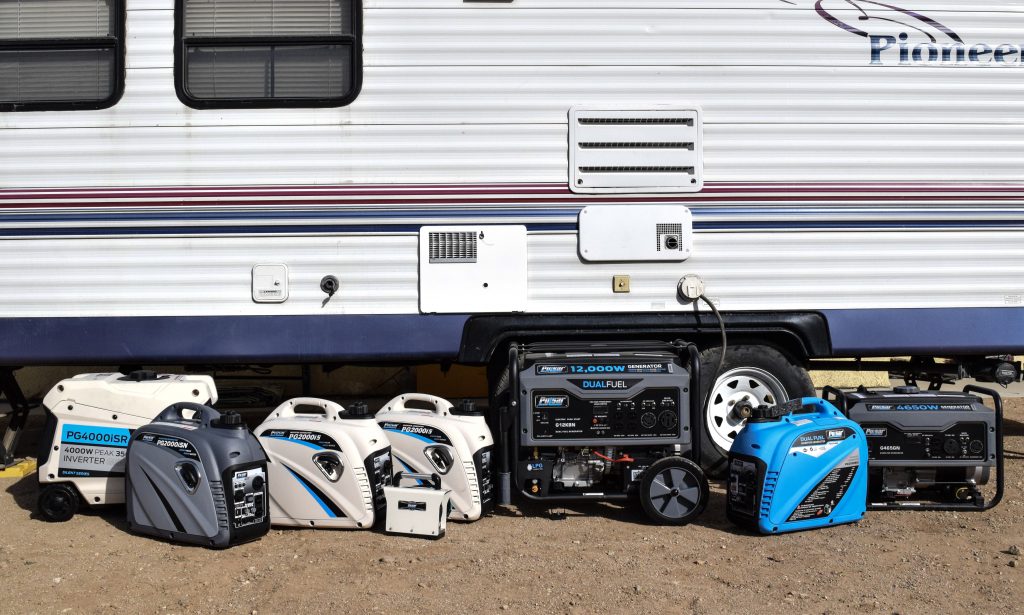 The best portable gas generator for one person may not be all that good for another person. It all depends on your particular circumstances and needs. To pick the right one that's best for you, these factors must be considered:
Wattage
You have to consider the running (or rated) watts as well as the peak (or starting) watts. This is the most important consideration, as this will determine what kind of appliances (and how many of them) you can run with the generator. With enough wattage, you can run the usual appliances of an entire household during a power outage.
Running Time
This is usually determined by the size of the fuel tank and the efficiency of the motor. This will also depend on the load you've placed on the generator. Normally, you'd expect a gas generator to run for about 8 hours at 50% load.
Portability
This normally isn't a problem, as these generators generally have wheels and a handle. But the weight may be an issue if you're going alone to a camping site and you need to lift the generator from the car trunk.
Ease of Use
Again, this shouldn't be a problem. Even average gas generators should be easy enough to figure out by most adult users. They're usually so simple even children can use them.
However, it's best if you do have easy to read gauges and indicators for engine and fuel status, and if you also have lots of safety features like auto low oil shutoff.
Noise
The bigger ones with the most watts tend to be noisier, so it's up to you to balance your need for power vs. your need for peace and quiet.
You should be able to get used to a gas generator working at 70 decibels or so, which is as loud as a vacuum cleaner. But some generators don't make as much noise at all.
Durability
How long will the unit last? You may want to stick with well-known brands or to generators made in countries known for good quality control. The length of the warranty can also indicate how long the generator is expected to last.
Who Makes the Quietest Gas Generator?
One of the main drawbacks of using a gas generator is that you have to deal with the noise. It's one thing to use a rechargeable power station to power your appliances. When you deal with a motor that runs on gasoline, noise is generally part of the deal.
But some generators are noisier than others, and some are run comparatively quieter. Usually, you can thank your lucky stars if your gas generator makes about 70 decibels.
That's about as loud as a modern vacuum cleaner, or when you turn on your TV at normal sound volume. Some of the more silent gas generators emit even lower noise levels.
The HONDA EU3000IS can run at less than 50 decibels. That's as noisy as a quiet suburb which means it's very quiet.
The Yamaha EF2000iSv2 goes only up to 61 decibels even on a full load. That's the normal sound volume of a typical office. It's about as noisy as an air conditioner 100 feet away from you.
The Champion Power Equipment 73536i is also good at 53 decibels.
Take note that these decibel readings were taken from 23 feet away. So you may want to get the hint and place your gas generator far from where you usually sit.
Final Verdict
A gas generator is one of those must have items in your home. Sooner or later you're going to need one because you'll have a power outage.
These generators are best portable generators for camping, picnics, tailgate parties, beach outings, so you can still have lights, music, and the use of your beloved coffee machine.