Nothing can be as frustrating and annoying as being unable to start your vehicle, especially when you're in a hurry to go somewhere important. It is even better when your car refuses to start at home. You may leave it and catch a bus. It is worse if it happens when you're about to start coming home. You'll have to find a way to bring your car home.
One of the causes of the problem is a weak battery. Now, with a portable jump starter always in your car, having a low battery will not stop you from starting your car. You only need to jump-start it, and you're on the road again. Due to how important a jump starter is, its demand keeps rising.
That's why there are many of them in the market today. Unfortunately, this makes it a little challenging for buyers to make a choice. We have bridged the gap now. We have tested many portable jump starters. One of them is the product that we're about to introduce to you.
The DBPOWER 600A 18000mah Car Jump Starter review covers all the major features of the unit. After going through it, you should be able to decide whether to go for it or continue your search. However, due to its quality and features, we'll recommend it. But before we do, we'd like you to see the features for yourself.
Bear in mind that this review is based on what we found out about the product, and not what we read about it. By our standards, we don't depend on only online reviews because some of them may be misleading. Rather, we test products and review them on what we see. So, let's get down to business right away.
DBPOWER 600A 18000mah Portable Car Jump Starter Review | 5 Major Features:
1. It is Portable
What we love most about this device is its portability. It is compact and handy. So, it is easy for you to take it around easily. You can leave it in the trunk of your car, the glove compartment, or the pigeon hole. Anytime your car refuses to start, you can easily bring it out to jump-start the vehicle.
If you're going to enjoy some boat ride, you can take it along as well. Weighing less than 3 pounds makes it very portable.
2. The Unit Delivers 800 Amps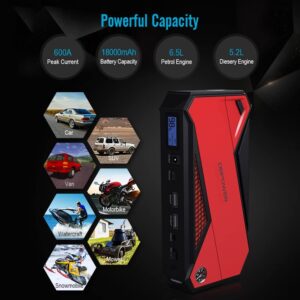 This jump starter is able to deliver up to 800 amps. That's why it can jump-start all kinds of vehicles and equipment. You can use it for your car, SUV, van, truck, snowmobile, ATV, RV, boat, motorcycle, lawnmower, and machine equipment.
More importantly, it can jump-start vehicles up to 20 times before it gets weak. We'll advise you to charge it immediately after every use so that it will be fully charged anytime you want to use it. It works best when it is fully charged.
3. You will Enjoy Multiple Protections
This unit is very safe to use. You don't have to worry about wrong connections. When you connect the clamps wrongly, you'll be alerted immediately. In addition, we can assure you that the device is protected from overcharging, overloads, high voltage, short circuits, and reverse polarity. So, when you buy this product, you'll buy peace of mind.
4. You Can Charge Smaller Devices With it
It has USB ports to charge your phone, tablet, digital camera, Kindle, and other smaller devices. In addition, you can also charge your laptop with it.
The jump starter comes with an 8-in-1 laptop adapter. With that, you will be able to charge your laptop with the jump starter. In other words, the device also doubles as a power bank.
5. It has a Compass and an LED Light
You will love the fact that this unit has a bright LED light. That means you can use it in the dark. Also, we feel that it will be a very good tool for camping. You will need its bright LED light in the night. Also, its compass will help you find your way when you get lost in the woods.
How To Use DBPOWER 600A Jump Starter?
Although this device is durable, you can make it last even longer by using it properly. Here are a few important tips to always remember.
1. Charge it Always
Jump starters work best when they are fully charged. So, it is advisable to charge your jump starter immediately after use. That way, it will always be ready to go anytime you need it.
2. Charge it Once in Three Months
When they are not being used regularly, they may not be able to hold a charge for several months. So, if you're not using your jump starter now, it is advisable to charge it at least once in three months. This will keep its battery active.
3. Read its User Manual
You need to read its user manual and digest the information before you start to use your jump starter. The user manual has all the necessary information on how to connect it, how to maintain it, and mistakes to avoid.
Some users connected their jump starters wrongly, and they were alerted by the devices, but they didn't understand because they never read the user manual. They ended up damaging their jump starter sand batteries. To avoid that, you must read the user manual.
4. Study Warranty Terms
This jump starter comes with a 3-year warranty, and that's impressive. However, every warranty has a limit to what it covers. You may need to study the warranty terms and also ask questions to understand the warranty terms and conditions. You don't want to be told that the problem with your jump starter is out of warranty.
Why Should You Use DBPOWER 600A 18000mah Portable Car Jump Starter?
1. It is Easy to Use
One of the reasons why you should consider this device is its ease of use. It is not difficult to understand. Anyone who has never used a jump starter before will be able to use it.
2. The Device is Safe
This device is mistake-proof. When you get it the connection wrong, it will alert you. Also, it is safe from overloads, high voltage, rapid discharge, reverse polarity, and short circuits.
That's why it is very durable. You don't want to buy a device that will pack up after a few months. We assure you that this unit will last very long.
3. It has a High Amazon Rating
This jump starter has an Amazon rating of 4.6 stars. A high Amazon rating indicates that it is a reliable product. Remember, Amazon ratings are usually given by users of a product. So, having a high Amazon rating is another reason to use the device.
4. It is Also a Power Bank
This device has a couple of USB ports with which you can charge your phone and tablet at the same time. In addition, it comes with a laptop adapter, so you can also charge your laptop with it. That's why we said it also works as a power bank.
Product Benefits
1. This jump starter delivers 800 amps.
2. It is very easy to use, and it is durable.
3. An Amazon rating of 4.6 stars is highly impressive.
4. It has a super bright LED light.
5. You will easily find your way in the wild with its in-built compass.
6. It has several protections.
7. The unit comes with a 3-year warranty.
8. There USB ports to charge your phones and tablets.
9. It comes with several accessories.
10. The LCD screen of the jump starter displays the battery level all the time.
The Negative Things
It does not come with a storage/carry bag.
FAQ – Frequently Asked Questions
Question 1: Where can I get it?
Answer: It is sold on Amazon.
Question 2: How Heavy is it?
Answer: It weighs 2.82 pounds.
Question 3: What is its Amperage?
Answer: It can deliver 800 amps.
Question 4: How many times can it Jump-start a Vehicle before Running Low?
Answer: It can jump-start up to 20 vehicles on a single charge.
Question 5: What Special Feature does it have?
Answer: It has an in-built compass that can help you find your way if you get lost while camping or hiking.
Final Verdict
Based on this DBPOWER 600A 18000mah review, we will recommend this jump starter to anyone that wants to get a portable jump starter. It is strong and durable. The unit delivers up to 800 amps to jump-start up to 20 vehicles before it gets weak. Also, it is protected from short circuits, reverse polarity, overcharging, and other hazards.
Both LED light and compass make this a veritable tool for camping and hiking. In addition, weighing only 2.82 pounds makes it very portable. With its USB ports, you can charge your phones, tablets, or digital camera. Its 3-year warranty is also worthy of mention. Finally, its Amazon rating of 4.6 says it all. So, we hereby recommend the product.