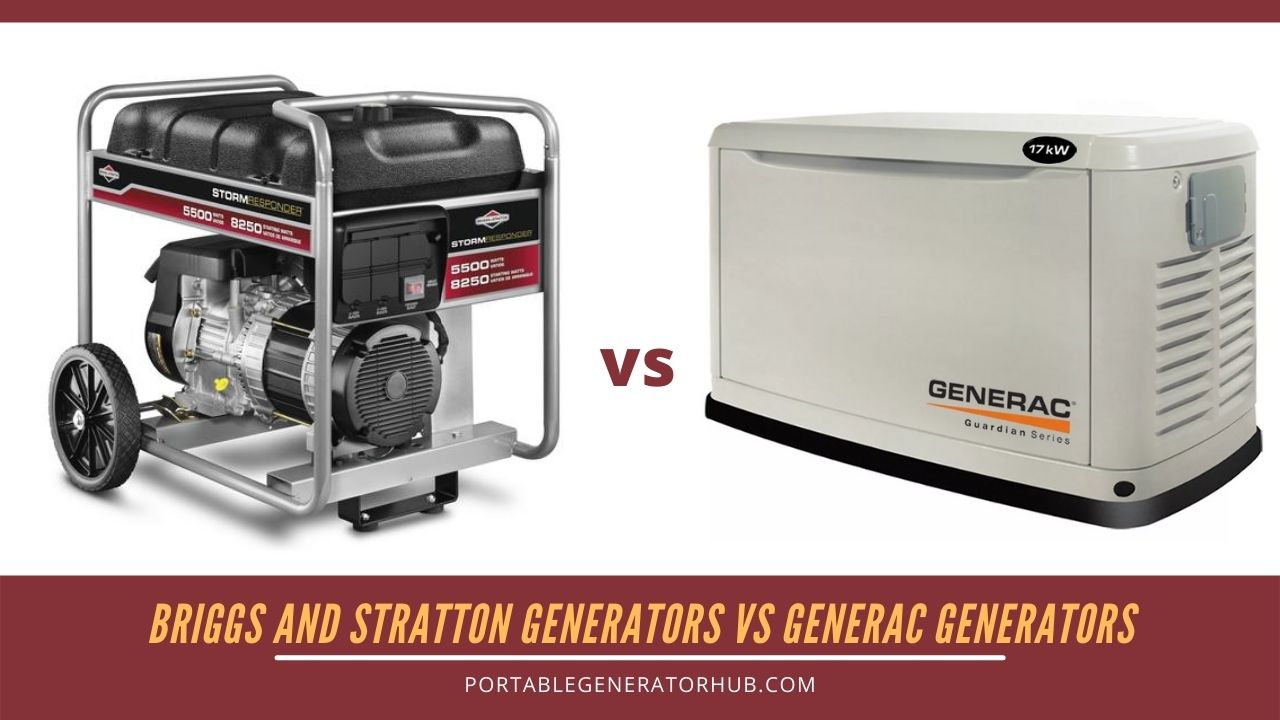 We believe that Generac is the best generator brand because of the features we found in its generators. Since we don't want to base our opinion on mere speculations, we have embarked on comparing the brand with other leading brands in the generator industry one by one.
In this article, we'll be comparing Generac generators with the generators from Briggs and Stratton. So, after reading this comparative article to the end, you'll be able to decide which of the brands offers more value. We decided to compare them on the factors that buyers consider most.
We'll compare both brands of generators on maintenance, fuel type, rate of fuel consumption, after-sale support, diagnostic test, remote monitoring, warranty, variety, noise level, availability of parts, prices, and durability.
12 Major Differences between Briggs and Stratton Generators and Generac Generators:
1. Durability
Based on the feedback we got from the users of Generac generators and Briggs and Stratton generators, we can confirm to you that both brands of generators are tough and durable. They'll last for several years. Therefore, we can't give this yardstick to anyone of them. It's a draw.
2. Fuel Type
It is important that you pay attention to the fuel your generator runs on. Generally, generators are fueled by gasoline, diesel, propane, or natural gas.
We prefer the last two because diesel and gasoline give off too many harmful gases. They are the least eco-friendly types of fuel. Also, gasoline is too volatile. It burns very fast.
Fortunately, both brands have generators that run on gasoline, they have the ones that run on diesel, and they have the ones that run on both propane and natural gas. So, it's a matter of choice. That's why there's no clear winner in this area.
3. Maintenance
Ease of maintenance is another important factor that you should consider when buying a generator. You're lucky because both brands of generators hardly break down.
They are tough and durable. Also, their parts are easily available. Most importantly, they come with a warranty. So, we can't crown any of the brands for ease of maintenance. It's a draw.
4. Noise Level
The biggest challenge with generators is their loud noise. It's okay when you use them in a camp because you can place them far away and you're probably the only one in the camp. It is different in a residential area. You don't want a generator that will constitute a nuisance in your neighborhood.
Furthermore, many home-owners associations have an accepted noise level. So, you must choose a generator with a low noise level. You're good with either Generac generators or Briggs and Stratton generators. Their noise levels are relatively low.
And we don't know which brand of generators offer lower noise levels. Therefore, we'll give it to both of them. It is another tie.
5. Prices
In whatever you want to buy, you should always look for the best quality at the lowest possible price. That's why price seems to be the most important factor in determining your choice of anything. No matter what your taste is, you won't go above what you can afford.
Both brands offer different models of generators that come at varying prices. But when we categorized them based on their power output, we found out that the prices of the Generac generators in each category are higher than the prices of Briggs and Stratton in the categories. So, we'll give this to Briggs and Stratton. Its prices are more competitive.
6. Rate of Fuel Consumption
Like cars, generators run on fuel, and when their fuel is exhausted, they go off. Each time your generator is on, fuel is burning. While some generators are conservative, others will consume your fuel faster. You need a generator with a low rate of fuel consumption.
Although the more the load on your generator, the more fuel it will consume, some generators still consume more fuel than others. The rate of fuel consumption of Generac generators and Briggs & Stratton generators is about the same. None surpasses the other, so we'll call it a tie in this area.
7. Remote Monitoring
One feature that Generac generators have but others don't have is the ability to monitor them remotely. Generac has a mobile app for its generators. Once you download and install the app on your phone, you'll be able to monitor the performance of your Generac generator from wherever you are.
You can monitor the battery status and the performance of the generator. On this, Generac has an edge over Briggs and Stratton because the latter does not have the feature. The clear winner in this area is Generac.
8. Variety
We have checked the number of generator models that both brands have. And we realized that Generac has more models than Briggs and Stratton.
We believe that variety is important. It gives buyers more options to choose from. Since Generac has more models than Briggs, Generac is the winner here again. The comparisons are swinging in favor of Generac.
9. Warranty
Buying a generator is a huge investment because generators aren't cheap. It is necessary that your generator comes with a warranty. Unfortunately, not every generator comes with a warranty. The good news is both brands in review offer warranties.
While Generac offers a limited 10-year warranty on its generators, Briggs and Stratton offers a 2 to 5-year warranty on its generators. The winner has presented itself in this area.
A 10-year warranty is better than a 5-year warranty. So, the winner here is Generac. As we always advise, always study the warranty terms and conditions. It will guide you.
10. After-Sale Support
This yardstick is meant to find out which of the two brands is more responsive to customers. When you have an inquiry or issue with your generator, you'll need to get across to the manufacturer of the generator to get the answer to your inquiry or the solution to the issue.
So, you need a brand that will respond to you quickly and satisfactorily. When we called each of the brands separately, both of them picked our calls at the first attempt. And in both cases, the person at the other end of the phone took the time to answer our inquiry to our satisfaction. That's commendable.
Again, we sent each of them an email at about the same time. We got replies from both of them the following day, which isn't too impressive. So, we can't say one has better after-sale support than the other. We'll make it a draw on this.
11. Availability of Parts
As you use your generator, some of its parts will wear out and break down. So, you'll need to keep changing some parts. That's why you need a generator whose parts are readily available. It can be a nightmare to be told to wait for the required part to be shipped into your city.
Thankfully, you can easily get the parts of Generac generators and Briggs and Stratton generators. However, the wider spread of Generac generator distributors gives the brand an edge over Briggs and Stratton and several other brands. So, when it comes to the availability of parts, Generac has an edge over Briggs and Stratton.
12. Diagnostic Tests
One challenge that generators have is they develop a problem if they're not used regularly. Remember, your generator is meant to back up your grid supply. What happens if there's no power outage in a long time? For smaller generators, you need to start it at least once in two months to keep the battery active.
Bigger generators have a solution to this problem. Some of them run a weekly self-diagnostic test. They'll start up automatically even when there's power. The test runs for about 20 – 25 minutes. This way, they'll always be in perfect condition. Unfortunately, not every standby generator has this feature.
We're glad to inform you that both Generac and Briggs and Stratton generators do self-diagnostic tests. So, you can count on either of them on this. There's no winner in this area. Or you could say both of them are winners here.
Who Makes Briggs and Stratton Generators?
The company is a US company specializing in the production of gasoline engines. Stephen Foster Briggs and Harold Stratton pioneered it. However, the current CEO is Steve Andrew, and it has grown from a medium-scale business to a manufacturing company that produces over 9m gasoline engines every year.
The company has existed since 1908, and the company is still very much relevant. It has branches in countries like Australia, Canada, the UK, and others. The multinational company has an ongoing partnership with KPS Capital Partners.
Does Generac Make Briggs and Stratton?
No, Generac is managed by the Generac Holding Company, while Briggs and Stratton run a partnership deal with KPS Capital Partners. Briggs and Stratton Company formerly acquired some shares under Generac over a score of years ago in 2001.
It purchased the Generac portable products division, including the Jefferson plant, but Briggs and Stratton Company later sold it. Presently, both companies are run separately by different warranties.
Are Briggs and Stratton Generators Made in the USA?
Yes, Briggs and Stratton registered its presence in over 100 countries. It is a US-based company that is situated in Poplar Bluff, Missouri, and Munnsville in New York. You can check the company's website to learn about their manufacturing plants' present venues. Some couplings are carried out outside the US also.
What Generators Do Briggs and Stratton Engines Use?
Briggs and Stratton make countless varieties. They have varied generators in portable sizes and standby features. Apparently, there are generators' that use gasoline and some that use natural gas. The ultimate prerequisite is to read the manual first to know the kind of fuel your generator uses. Better still, you can do your research before buying a specific model.
How Long Do Briggs and Stratton Generators Last?
The warranty Briggs and Stratton Company offers their prospective buyers is basically for 10yrs. The frame and the material used for the engine's construction are built-to-last. So, there is a certainty you can use a Briggs and Stratton generator for a minimum of 15yrs. But if one manageably uses the generator, it could last more 35yrs because it could withstand all weather.
Which Generator is Better, Briggs and Stratton or Generac?
Some peculiarities distinguish the two from one another. Generac generators are better in terms of overall outputs. Though the two are sturdy and their manufacturers have excellent customer service, a lot of people vote for Generac because of the trust they've built in their services.
Final Word
After going through the comparisons, it became clear that Generac offers more than Briggs and Stratton. Out of 12 areas of comparison, there's a tie in seven of them. Generac won in warranty, variety, remote monitoring, and availability of parts.
On the other hand, Briggs and Stratton won in the area of prices. The brand offers more competitive prices than Generac. So, if you have to choose between Generac and Briggs, this article should be a good guide.