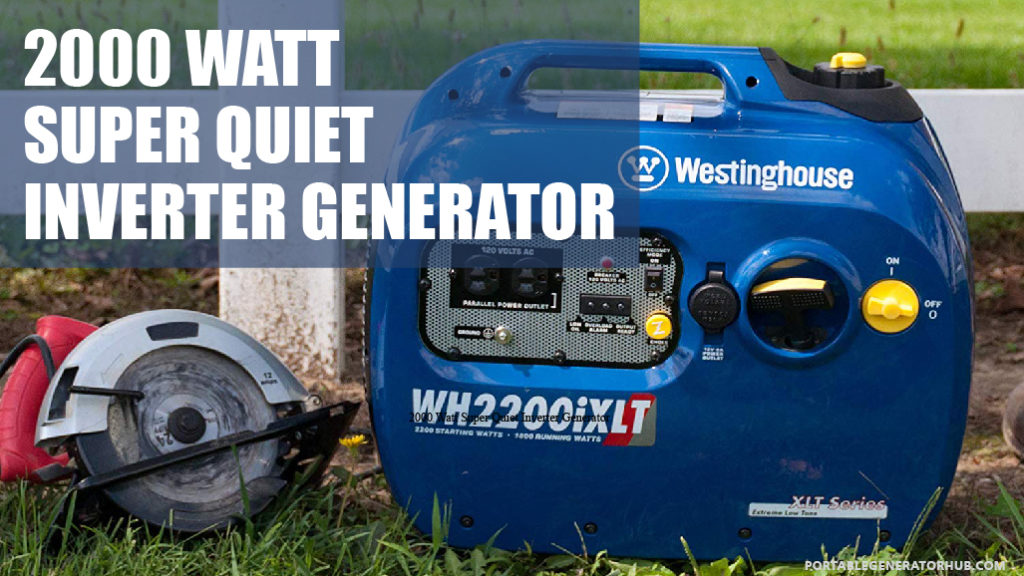 When you need an alternative power source during power outages, inverter generators are the most suitable power source in many situations because they are easy to use, simply portable and stable source of power. They are also noiseless machines. Buying a 2000 watt super quiet inverter generator is a great choice.
Your decision to purchase inverter generator depends on your personal specific needs. You will get proper idea about inverter generators from our top five selection:
Inverter generator Brands & Specifications
| Image | Name | Watt | Price |
| --- | --- | --- | --- |
| | WEN 56200i | 2000 Watt | |
| | Honda EU2000i | 2000 Watt | |
| | Westinghouse | 2200 Watt | |
| | Briggs & Stratton | 2200 Watt | |
| | Generac iQ2000 | 2000 Watt | |
Do you want a 2000 Watt Super Quiet Inverter Generator and do you like nonstop power supply? Then you should know about the wen model 56200i.
People love this model because it is a very silent inverter generator. It delivers clean power without voltage drops. This model is safe to power smartphones, tablets, laptops, and other sensitive electronics.
It is a very good model for your emergency situation. This generator produces clean environment-friendly energy.
You will get 1600 running watts and 2000 starting watts output from this WEN 56200i portable inverter generator. Above all, the WEN 56200i generator is an ideal choice for outdoor use when you are camping, hunting, etc.
Features:
Extremely quiet
Very portable and easy to carry
Fairly easy to maintain
1-gallon fuel tank size
Six hours running time
Comes with 2 Years Warranty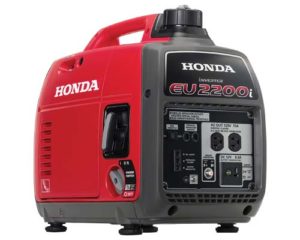 Do you know which company first brings inverter generators to the market? It's Honda.  Honda EU2000i soon enlarged popularity and became one of the best-selling portable generators ever made.
And this model still ranking on the highest spots on the lists of the best silent inverter generators. Honda EU2000i weighs less than 47 pounds.
The EU2000i offers great fuel efficiency. On a single tank it runs four to nine hours, depending on the load.
Honda's inverter technology means stable, clean power in a smaller, lighter package. You will be able to add another EU2000i, If you need more power.
The generator allows you to perform lots of tasks-from camping expedition to field trips. In other words, this is a machine you can count on to power most of your gadgets both at home and during camping.
Features:
High fuel efficiency
It is Easy to Maintain
Very Quiet – 59 decibels at maximum
Has Eco-Throttle system controls
Oil alert protects
Extremely quiet operation
3-year warrant
Westinghouse WH2000iXLT is a portable inverter generator. This portable inverter generator ratings is very good. The name Westinghouse WH2200iXLT cannot be left out when talking about less expensive, silent generators.
This model costs much lower than other popular model. Westinghouse WH2000iXLT offers clean and reliable power. It produces very little noise, and is very reasonably priced compared to other power supply in this category.
This models has enough power to run various kinds of electrical home appliances during the power outages.
This Westinghouse is capable of delivering 2200 watts of starting power and 1800 watts of running power. Many people already bought this for usage at job sites. You can buy another one to double the power.
Features:
Fuel Efficient
4-stroke engine
Lightweight – Only 43 lbs
Less Noise than Normal Conversation Volume
2200 Starting Watts, 1800 Running Watts
Safe for Electronics – Inverter Technology
3-Year Warranty and Lifetime Technical Support
Biggs & Stratton is known for their innovative products. Briggs & Stratton P2200 generators can generate enough power to meet your power requirements at home, on a job site or for recreational purposes.
This type of silent portable inverter generators are mainly for recreational use like tailgating and camping. It's wattage is not enough for powering all the basic home appliances at once so it really is better suited for recreational purposes.
Features:
Parallel capacity option
Very lightweight to move anywhere
8 hours run time capacity on a full tank
Has two 120V household outlets
2-year manufacturer's warranty
Generac is well known for their home standby generators. Beside this, they also produce a variety of portable generators. Generac 6866 iQ2000 inverter generator is one of them.
This Quiet Inverter Generator is very quiet and easily portable to anywhere else. Generac iQ2000 Generator is very useful for emergency backup power during power outages.
Suppose, the wattage is inadequate for your needs, you can able to bring another one and connect the two to double your watts.
Features:
Quietest Inverter generator
7.7 hours runtime at 25% load
Fuel level indicator
Instantly displays wattage used
Low oil shutdown safeguards engine from damage
Compact, lightweight design provides portable power
Parallel options to connect two inverter generators
Conclusion
As well as, 2000 watt portable inverter generator is mainly for outdoor use, which is why they're often small and lightweight. They're only featured for the most essential electronic devices like as powering smartphones and laptops, and maybe lights and music systems.
Find the best portable inverter generator, and you'll have a great power source for camping trips that won't make a lot of noise to bother you when you sleep!